Author: Maria Gomez-Lozano Illustrator: Maria Gomez-Lozano Publisher: Independently published
Prosthetic eyes are something that can feel shrouded in mystery; many people are curious about them, but may feel nervous about asking questions. This picture book uncovers the answers in an engaging and simple way, using a narrative that is well-pitched for young children. A child who is facing the possibility of losing an eye will feel reassured by Bruno's pragmatism, honesty and positivity.
The book opens with no mention of Bruno's eye, but focuses instead on introducing his passions and talents  (like soccer, painting and being a great big brother). Bruno's left eye 'got sick' when he was little and lost all vision. He describes it as a 'superhero eye', as it prevented the spread of the infection to the rest of his body. Bruno now has a Special Eye, which needs to be cleaned and looked after properly, at home and during visits to his ocuralist. All Bruno's descriptions and explanations of what his Special Eye is and what he must do to look after and protect it are honest, positive and simple.
Like all good Parachute Books, 'My Special Eye' is both sensitively and thoughtfully written and visually engaging.  Maria Gomez-Lozano has cleverly combined black and white photographs of the (very smiley) 6-year-old Bruno with richly-coloured watercolour details. We loved the depiction of him with his toy elephant, who also has a special eye.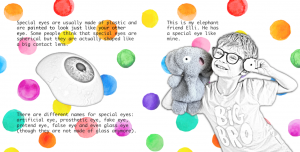 This appealing picture book would be helpful and reassuring for a child who is faced with the prospect of having a prosthesis fitted, and is a useful source of information for anyone curious to know more about what it's like to live with an artificial eye.