Author: Duncan Beedie Illustrator: Duncan Beedie Publisher: Templar
Percy the street-dwelling pigeon endures a pretty tough life. Constantly hungry, he has to get up early and work very hard to find enough to eat. Wherever he goes, the food scraps are snatched from under his beak by aggressive and uncaring birds. At the end of a long, tiring and fruitless day searching, when Percy is weak with hunger and at his lowest ebb, a rough sleeper shows true kindness when it is most needed and offers Percy their last chip. A perfect representation of the quote, 'sometimes those who give the most are the ones with the least to give'.
This is a beautifully warm-hearted story which will leave readers rooting for and empathising with the delightful feathered protagonist. Duncan Beedie's superb stylised illustrations take you on a visual journey from sunrise to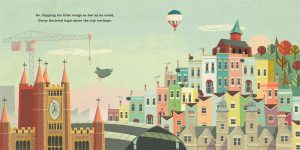 sunset, with many lovely details to take in on the way.
10% of the profits from the sale of the book go to The Trussell Trust, supporting a network of 425 foodbanks across the UK.