Author:
Clare Helen Welsh
Illustrator:
Ashling Lindsay
Publisher:
Little Tiger
"Grandad doesn't remember things like he used to."
The story, which centres around a family day out at the beach, explores the relationship between a little girl (the narrator) and her beloved grandad, who lives with dementia. The girl has become aware of changes in her grandad's behaviour: he sometimes gets confused, forgets things, or acts oddly (one illustration shows Grandad trying to bury the picnic sandwiches in the sand). The girl's mum (who is a silent but important loving presence in the story) has cleverly described the situation to her daughter using a comforting metaphor: Grandad's memory is like the tide: sometimes near, sometimes distant. The girl is learning to 'go with the flow' of her grandad's condition, cherishing the precious lucid moments when he is able to play and interact, and also to be able to 'just sit' and be at peace with him during the times when his memory and thoughts seem more distant. The girl is very considerate: she empathises with her grandfather and compares his forgetfulness with times she has forgotten things herself and has needed help (and in doing so appreciates that it's not easy for him).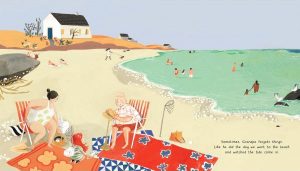 This is a skilfully crafted and incredibly beautiful picture book which shows a perfect collaboration between author and illustrator. It is by no means easy to create a story about a subject like dementia which has an air of of joy, playfulness and hope, but Clare Helen Welsh and Ashling Lindsay have aced it. The love and understanding shared between the three family members radiates from the pages, reinforcing the story's concluding message: the girl and her grandfather still love each other and will continue to do so, regardless of what lies ahead.