In an ideal world, the young children in our care would eat balanced, nutritious meals and snacks, and have perfect table manners. In reality, many children at some point in their childhood will be fussy eaters, perhaps avoiding vegetables and fruit, and push boundaries of what is deemed acceptable behaviour during mealtimes.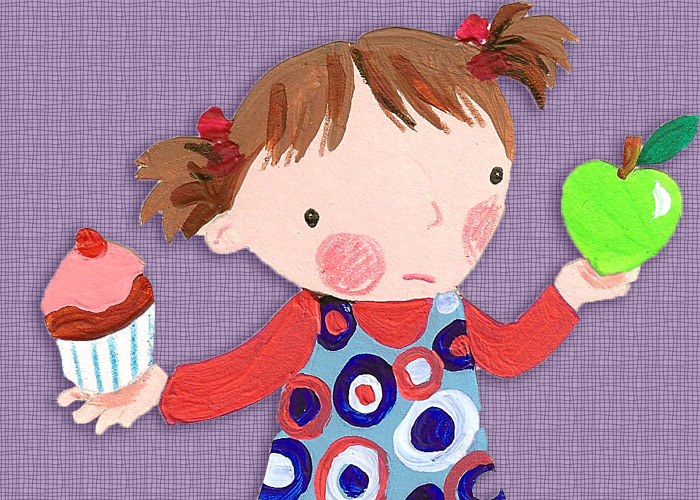 Keeping kids healthy can be stressful and challenging for adults – often the harder you push them towards healthy choices the more they assert their independence by digging their heels in.
The Little Parachutes library includes a selection of picture books that may encourage young ones to adopt healthier eating habits and be more aware of their table manners.
Picture Books About Healthy Eating:
Peas! By Andrew Cullen may encourage a child who is reluctant to eat vegetables to give them a try. It's also a good introduction to the 'green' issue of food miles, and may make children appreciate the effort and resources that go into getting food onto their plates.
Vegetable Glue by Susan Chandler is a light-hearted way to encourage vegetable consumption! It explains in a rather unconventional way that good eating habits can keep you fit, active and healthy.
Vivian French's Oliver's Vegetables and Oliver's Fruit Salad feature reluctant healthy eaters who ultimately surprise themselves when they find they actually like the nutritious food that is offered to them once they give it a go!
Liz Gogerly's Eating Well outlines the consequences of eating too much junk food and not taking enough exercise.
Handa's Surprise by Eileen Browne describes a tempting array of delicious fruits which even the real fruit phobic kids may be intrigued by.
Picture Books About Table Manners
Don't Dip Your Chips in your Drink, Kate by Caryl Hart at first glance seems to be encouraging bad table manners. However, there is a note at the end of the book from the author which explains that it's wrong to have bad manners (although having fun and relaxing at the table is perfectly OK). This may be a good choice for a child who finds mealtimes stressful, and for parents who want to diffuse tension by making meals more enjoyable.
Tony Ross's Little Princess – I Want My Dinner! is a good choice if you want to encourage a child to say please and thank you at the dinner table.
Excuse Me: Learning About Politeness by Brian Moses is a useful guide to how to behave both at mealtimes at home and in social situations away (such as parties and school lunches).
How Do Dinosaurs Eat Their Food by Jane Yolen shows clear visual examples of positive mealtime behaviour: good table manners, trying new foods, not making a mess and saying please and thank you. A great choice for a dinosaur-mad child!
Picture Books about Fussy Eaters
Lauren Child's I Will Not Ever Never Eat a Tomato features little sister Lola refusing to eat tomatoes until big brother Charlie re-names them 'moon squirters' from outer space. Making food fun certainly does the trick for Lola, and may help the child reading the book too.
Fussy eaters may identify with Too Pickly! By Jean Reidy. Adults reading this book may use it as an opportunity to say 'you don't want to be like the boy in the book, do you?'
Camilla Reid's Lulu's Lunch – Lulu is a great positive role model for young children in this lovely interactive picture book. She is seen tucking into a great variety of foods, including fruits and vegetables, pasta and yoghurt.
Article by Claire Ward-Dutton